Are you a big fan of Young Adult Fiction, Dystopian Fiction? Have you been searching for the next Dystopian Fiction to read? Well, if you have been searching for the next YA fiction to read then The Selection Series by Kiera Cass is just the right book for you! The Selection Series is a good read for lovers of fiction and fantasy books. if you would like to read all the books in The Selection Series, we've got you covered. Here on knowdemia, you can get The Selection Series by Kiera Cass books in order!
The Selection Series by Kiera Cass is Absolutely brilliant! Kiera Cass's writing is smooth, dramatic, and beautiful. She has a brilliant balance of gripping plot, fantastic premise, clever twists, wonderful characters, and an interesting structure. If you are searching for an amazing book series ever, don't think a second, Download The Selection Series by Kiera Cass now and the novellas and start an enchanting journey.
What Genre is the Selection by Kiera Cass?
Novel
Young Adult Fiction
Dystopian Fiction
Dystopia
Fantasy Fiction
what is the Selection by Kiera Cass About?
The Selection Series is a five-novel series of dystopian/romance. A young adult series written by Kiera Cass.
It follows the journey of America Singer for the first three novels of this series. She is a young girl who was selected to enter a competition called The Selection (referred to as The Hunger Games meets The Bachelor, minus the bloodsport) designed to pick a woman to become the future wife of Prince Maxon and take on the role of Queen of Illea. In America's case, she is chosen to be one of the thirty-five girls to compete for Prince Maxon's heart and to be the next princess of a future country called Illéa. However, this means leaving her family and secret boyfriend Aspen behind. She is stuck between two worlds and realizes that life as one of the competitors is not what she expected.
Characters of The Selection by Kiera Cass
America Singer – Like her red hair, America takes a rebellious attitude in concept. She tends to have a short temper, which she inherited from her mother. Despite saying she has no leadership skills, America isn't afraid to speak her mind. For example, when the palace was under rebel attack by the Southerners in The Selection, Silvia ordered America's maids to bring food and drink to the Selected. America, however, told her that the girls can take care of themselves, and ordered Anne to provide food for the royal family only. She is very stubborn and persistent at times and may jump to conclusions a lot. She can also be hypocritical but always apologizes if she is proven wrong. America's greatest fear when entering the Selection was losing her individuality, something the other Selected girls would even give up to take over the throne. Overall, America is a very courageous person that, at the end of the day, will always realize the mistakes she might have caused and will do anything to make things right. She is always afraid of losing someone she loves.
Prince Maxon – When America first saw Maxon on TV, she believed he was a shallow and stuck-up person. Thus, when she meets him for one of the first times, she misunderstands his intentions and knees him in the groin. However, he forgives her and she later discovered that he was actually very kind and a gentleman. The two eventually became friends, talking to each other, sharing secrets, and having fun together. America guided him to better understand his kingdom and to help the lower castes. Maxon admires America for her strong will, courage, kindness, and sense of honor. At the beginning of the Selection, he mentions that he wants to be around her so that these features would rub off on him. He likes honesty and truth and he specifically asked America to trust him and his decisions and always be open with him. He is very private: he doesn't like when people interfere with his personal life (especially during the Selection where cameras follow his every step) or when the Elites gossip with each other about what he does or doesn't do with them.
Aspen Leger – Loves America and plans to marry her eventually but knows it is better for her to enter the selection to help her family. After America is picked for the Selection, he is drafted into the army where he earns top honors in his class, and then promoted to a member of the Royal Guard at the palace.
Marlee Tames – A member of the elite and best friend of America. Marlee first met America Singer as they were leaving for the palace. America and Marlee bonded as soon as they boarded the plane. The two quickly became friends and got along fine. After Marlee's first date with Prince Maxon, Marlee lost interest in the prince but didn't want to leave the Selection because her secret boyfriend, Carter Woodwork, was a guard at the palace.
Celeste Newsome – A member of the elite, she is a Two and worked as a model. Celeste's holds a sense of superiority over the lower caste competitors like America Singer and Marlee Tames. She is confident, arrogant, knows how to use her beauty, and is willing to do anything to win, even breaking the rules of the Selection. She tricks Anna Farmer into slapping her after criticizing her parents, which gets Anna kicked out of the competition (because violence against other competitors is against the rules). Before the interviews with Gavril Fadaye, Celeste tells America to trade dresses. When America refuses and calls Celeste "a brat", Celeste rips one of her sleeves and walks away. Marlee and Emmica help hide the ripped sleeve. She became good friends with the final few of "the elite".
Kriss Ambers – A member of the elite. She has brown hair and is a Three. America remarks that Kriss has grown closer to Maxon throughout the course of the book.
Elise Whisks – A member of the elite who has family connections to New Asia, a country that Illéa is at war with.
Natalie Luca – A member of the elite whose sister was killed by rebels. She is blonde and viewed by America as someone who has her head in the clouds. Carefree spirit.
Clarkson Schreave – King of Illéa and Maxon's father, he is often seen as strict. The girls react with fear when he gets angry. America dislikes him. It was found out that he whipped Maxon Schreave.
Amberly Schreave – Queen of Illéa and Maxon's mother. She is from Honduragua and was a Four until she married King Clarkson at the end of his Selection. She is described as kindhearted by America. She is very loved by all her people.
When The Hunger Games Meets The Bachelor, you obtain The Selection…
The Selection Books in Sequential Order: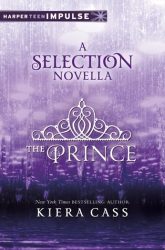 The Queen – Novella. This prequel story takes place before the events of The Selection and is told from the point of view of Prince Maxon's mother, Amberly, and how she became a beloved queen. Included in Happily Ever After.
The Prince – Novella. Before America Singer was chosen to compete in the Selection, there was another girl in Prince Maxon's life. In The Prince, follow Prince Maxon through the week leading up to the beginning of the Selection—and the day he first meets America. Included in Happily Ever After.
The Selection – Book #1. For thirty-five girls, the Selection is the chance of a lifetime. The opportunity to escape a rigid caste system, live in a palace and compete for the heart of gorgeous Prince Maxon. But for America Singer, being Selected is a nightmare. It means turning her back on her secret love with Aspen, who is a caste below her, and competing for a crown she doesn't want. Then America meets Prince Maxon—and realizes that the life she's always dreamed of may not compare to a future she never imagined.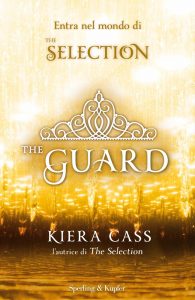 The Elite – Book #2. Thirty-five girls came to the palace to compete in the Selection, and to win Prince Maxon's heart. Now six girls remain, and the competition is fiercer than ever—but America Singer is still struggling to decide where her heart truly lies. Is it Prince Maxon—and life as the queen—that she wants? Or is it still Aspen, her first love?
The Guard – Novella. This 64-page story begins just after the group of Selected girls is narrowed down to the Elite and is told from Aspen's point of view. Included in Happily Ever After.
The One – Book #3. When she was chosen to compete in the Selection, America never dreamed she would find herself anywhere close to the crown—or to Prince Maxon's heart. But as the end of the competition approaches, and the threats outside the palace walls grow more vicious, America realizes just how much she stands to lose—and how hard she'll have to fight for the future she wants.
The Epilogue – Short Story. After The One. An 11-page story that takes place two years later on Maxon's birthday. Included in Happily Ever After.
The Favorite – Novella. Told from Marlee's point of view, this 64-page story returns to the fateful Halloween when Marlee and Carter were discovered and reveals how that night—and Prince Maxon—changed their lives forever.
The Heir – Book #4. Princess Eadlyn has grown up hearing endless stories about how her mother and father met. Eadlyn has always found their fairy-tale story romantic, but if it were up to her, she'd put off marriage for as long as possible. But Eadlyn can't escape her very own Selection and one entry may just capture Eadlyn's heart, showing her all the possibilities that lie in front of her.
The Crown – Book #5. Eadlyn still isn't sure she'll find the fairytale ending her parents did twenty years ago. But sometimes the heart has a way of surprising you…and soon Eadlyn must make a choice that feels more impossible—and more important—than she ever imagined. A bonus epilogue is included in the Barnes & Noble special edition.
Happily Ever After – Companion to the Selection Series. Includes four novellas as well as exclusive bonus content (The Prince, The Guard, The Queen, The Favorite, new scenes from The Selection, The Elite, and The One, introductions to each novella from Kiera Cass, a map of Illéa and other illustrations).
The main series can also be found in a Single Zip File.