Looking for a sweet summer read Every Summer After by Carley Fortune PDF is the book for you. Percy and Sam form an immediate bond when they meet that first summer at the age of thirteen. They quickly become best friends despite big brother Charlie's ability to push everyone's buttons. Will they ever be more than friends? After six summers, the relationship blows up in their faces. Now it is twelve years later. Sam and Charlie's mother has just died of cancer. Charlie calls Percy and she is drawn back to that lake town like a magnet. This debut novel will keep you turning the pages to find out what happened next! A must-read.
Every Summer After by Carley Fortune PDF Free Download Details
Book Title: Every Summer After PDF
Author: Carley Fortune
Published: May 10th 2022 by Berkley
Goodreads Link: Every Summer After by Carley Fortune PDF
ISBN: 9780593438534
Formats: [PDF] [Epub]
No. of pages: Paperback, 320 pages
Size: 3 MB
Genre: Romance
Language: English
File Status: Available
Price: $0
Every Summer After by Carley Fortune Summary
Six summers to fall in love. One moment to fall apart. A weekend to get it right.
They say you can never go home again, and for Persephone Fraser, ever since she made the biggest mistake of her life a decade ago, that has felt too true. Instead of glittering summers on the lakeshore of her childhood, she spends them in a stylish apartment in the city, going out with friends, and keeping everyone a safe distance from her heart.
Until she receives the call that sends her racing back to Barry's Bay and into the orbit of Sam Florek—the man she never thought she'd have to live without.
For six summers, through hazy afternoons on the water and warm summer nights working in his family's restaurant and curling up together with books—medical textbooks for him and work-in-progress horror short stories for her—Percy and Sam had been inseparable. Eventually that friendship turned into something breathtakingly more, before it fell spectacularly apart.
When Percy returns to the lake for Sam's mother's funeral, their connection is as undeniable as it had always been. But until Percy can confront the decisions she made and the years she's spent punishing herself for them, they'll never know whether their love might be bigger than the biggest mistakes of their past.
Told over the course of six years and one weekend, Every Summer After is a big, sweeping nostalgic look at love and the people and choices that mark us forever.
Editorial Reviews
Review
"Fortune's debut novel is filled with nostalgia and heart. Percy and Sam's history is compelling and nuanced, making the story fly by faster than the summer months themselves. Although just like the places we spend our summers, and the people we meet along the way, Percy and Sam just might stay in your heart far beyond the last page."—USA Today

"The magic and romance of summer is palpable."—Popsugar

"Every Summer After is a quintessential summer novel, full of longing and lost love, and hits on so many beloved tropes. You'll want to gobble it up in one satisfying bite."—BuzzFeed

"Any book that begins with a cocktail and a heartbreak-induced haircut has a strong likelihood of being just the book for me, but Every Summer After outshone even my highest hopes. Fortune's wit is sharp, her prose is gorgeous, and her characters thrum with the rare kind of life and breath we readers are constantly on the lookout for. This is a radiant debut that packs an emotional wallop."
—Emily Henry, #1 New York Times bestselling author of People We Meet on Vacation

"A sweet story about second chances, and how the future we imagine for ourselves is never quite what it turns out to be."
—Jodi Picoult, #1 New York Times bestselling author of The Book of Two Ways and Wish You Were Here

"Carley Fortune perfects the nostalgia of young summer love and the choices that change us forever in Every Summer After, a smart and delightful novel that will tug on your heartstrings, and more than satisfy fans of Emily Henry. This is your next must-read beach-read from an exciting new voice. A total joy to devour!"
—Ashley Audrain, New York Times bestselling author of The Push

"Just like summer, I didn't want this epic, nostalgic tale of youthful romance all grown up to end. Set in Ontario's cottage country, one of my favourite places on earth, this tantalizing debut is a perfectly gorgeous summer love story fans of Jojo Moyes and Emily Henry should add to their wish lists immediately!"
—Marissa Stapley, bestselling author of Lucky

"Set in Ontario's idyllic cottage country, Carley Fortune's debut, Every Summer After, follows a couple—Persephone (Percy) and Sam—as they navigate loss, broken promises, and unrequited love. In a "then/now" narrative spanning nearly two decades, Fortune deftly explores the push and pull of a relationship burdened by past mistakes and misunderstandings, and how it's as much about choice as it is fate. Evocative and nostalgic, this novel is perfect for those who covet steamy summer dock days and second-chance love stories. I devoured it!"
—Karma Brown, bestselling author of Recipe for a Perfect Wife

"In the mood for summertime nostalgia (cottage summers, young crushes, sandy nights)? Carley Fortune brings those lakeshore towns and emotional memories to life in Every Summer After about haunting past choices and second-chance love."—Parade

"A spectacular debut…Alternating between the past and present, the story flawlessly conveys the lovers' growth both together and apart, and the summery setting provides an idyllic backdrop to their path back to each other. Centered on redemption and forgiveness, this sweeping, heartfelt romance proves impossible to put down."—Publishers Weekly(starred review)

"Readers who enjoy a steamy love story in the mold of Jill Shalvis won't be able to put this novel down."—Booklist
Excerpt. © Reprinted by permission. All rights reserved.
1
Now
The fourth cocktail had seemed like a good idea. So did the bangs, come to think of it. But now that I'm struggling to unlock my apartment door, I'm guessing I might regret that last spritz in the morning. Maybe the bangs, too. June told me breakup bangs were almost always a very bad choice when I sat in her chair for a cut today. But June wasn't going to her friend's engagement celebration, newly single, that night. Bangs were in order.
It's not that I'm still in love with my ex; I'm not. I never was. Sebastian is kind of a snob. An up-and-coming corporate lawyer, he wouldn't have lasted one hour at Chantal's party without scoffing at her choice of signature drink and referencing some pretentious article he read in the New York Times that declared Aperol spritzes "over." Instead, he would pretend to study the wine list, ask the bartender annoying questions about terroir and acidity and, regardless of the answers, go with a glass of the most expensive red. It's not that he has exceptional taste or knows a lot about wine; he doesn't. He just buys expensive stuff to give the impression of being discerning.
Sebastian and I were together for seven months, giving our relationship the distinction of being my longest-lasting one yet. In the end, he said he didn't really know who I was. And he had a point.
Before Sebastian, the guys I picked were up for a good time and didn't seem to mind keeping things casual. By the time I met him, I figured being a serious adult meant I should find someone to get serious about. Sebastian fit the bill. He was attractive, well read, and successful, and despite being a bit pompous, he could talk to anyone about almost anything. But I still found it hard to share too many pieces of myself. I'd long ago learned to tamp down my tendency to let random thoughts spew unfiltered from my mouth. I thought I was doing a good job of giving the relationship a real chance, but in the end Sebastian recognized my indifference, and he was right. I didn't care about him. I didn't care about any of them.
There was only the one.
And that one is long gone.
So I enjoy spending time with men, and I appreciate how sex gives me an escape ladder out of my mind. I like making men laugh, I like having company, I like taking a break from my vibrator once in a while, but I don't get attached, and I don't go deep.
I'm still fumbling with my key-seriously, is something wrong with the lock?-when my phone buzzes in my purse. Which is weird. No one calls me this late. Actually, no one ever calls me, except for Chantal and my parents. But Chantal is still at her party and my parents are touring Prague and won't be awake yet. The buzzing stops just as I get the door open and stumble into my small bachelor apartment. I check the mirror by the entrance to find my lipstick mostly smudged off but my bangs looking pretty phenomenal. Suck it, June.
I begin to unfasten the strappy gold sandals I'm wearing, a dark sheet of hair falling over my face, when my phone starts up again. I dig it out of my purse and, one shoe off, make my way toward the couch, frowning at the "unknown name" message on the screen. Probably a wrong number.
"Hello?" I ask, bending to take off the second sandal.
"Is this Percy?"
I stand upright so fast I have to hold on to the arm of the couch to steady myself. Percy. It's a name nobody calls me anymore. These days I'm Persephone to almost everyone. Sometimes I'm P. But I'm never Percy. I haven't been Percy for years.
"Hello . . . Percy?" The voice is deep and soft. It's one I haven't heard in more than a decade, but so familiar I'm suddenly thirteen years old and slathered in SPF 45, reading paperbacks on the dock. I'm sixteen and peeling off my clothes to jump into the lake, naked and sticky after a shift at the Tavern. I'm seventeen and lying on Sam's bed in a damp bathing suit, watching his long fingers move across the anatomy textbook he's studying by my feet. Blood rushes hot to my face with a whoosh, and the steady, thick pumping of my heart invades my eardrums. I take a shaky breath and sit, stomach muscles seizing.
"Yes," I manage, and he lets out a long, relieved-sounding breath.
"It's Charlie."
Charlie.
Not Sam.
Charlie. The wrong brother.
"Charles Florek," Charlie clarifies, and begins explaining how he tracked down my number-something about a friend of a friend and a connection at the magazine where I work-but I'm barely listening.
"Charlie?" I interrupt. My voice is high-pitched and tight, one part spritz and two parts shock. Or maybe all parts total disappointment. Because this voice does not belong to Sam.
But of course it doesn't.
"I know, I know. It's been a long time. God, I don't even know how long," he says, and it sounds like an apology.
But I do. I know exactly how long. I keep count.
It's been twelve years since I've seen Charlie. Twelve years since that catastrophic Thanksgiving weekend when everything between Sam and me fell apart. When I tore everything apart.
I used to count the number of days until my family would head up to the cottage so I could see Sam again. Now he's a painful memory I keep hidden deep beneath my ribs.
I also know I've gone more years without Sam than I spent with him. I had a panic attack, my first in ages, then drank my way through a bottle and a half of rosé the Thanksgiving that marked seven years since I'd spoken to him. It felt monumental: I'd officially been without him for more years than we'd had together at the lake. I'd cried in ugly, heaving sobs on the bathroom tiles until I passed out. Chantal came over the next day with greasy takeout and held my hair back as I puked, tears streaming down my face, and I told her everything.
"It's been forever," I tell Charlie.
"I know. And I'm sorry to call you so late," he says. He sounds so much like Sam it hurts, as if there's a lump of dough lodged in my throat. I remember when we were fourteen and it was almost impossible to tell him apart from Charlie on the phone. I remember noticing other things about Sam that summer, too.
"Listen, Pers. I'm calling with some news," he says, using the name he used to call me but sounding much more serious than the Charlie I once knew. I hear him breathe in through his nose. "Mom passed away a few days ago, and I . . . well, I thought you'd want to know."
His words slam into me like a tsunami, and I struggle to fully understand them. Sue's dead? Sue was young.
All I can get out is a ragged-sounding "What?"
Charlie sounds exhausted when he replies. "Cancer. She'd been fighting it for a couple of years. We're devastated, of course, but she was sick of being sick, you know?"
And not for the first time, it feels like someone stole the script to my life story and wrote it all wrong. It seems impossible that Sue was sick. Sue, with her big smile and her denim cutoffs and her white-blond ponytail. Sue, who made the best pierogies in the universe. Sue, who treated me like a daughter. Sue, who I dreamed one day might be a mother-in-law to me. Sue, who was sick for years without me knowing. I should have known. I should have been there.
"I'm so, so sorry," I begin. "I . . . I don't know what to say. Your mom was . . . she was . . ." I sound panicked, I can hear it.
Hold it together, I tell myself. You lost rights to Sue a long time ago. You are not allowed to fall apart right now.
I think about how Sue raised two boys on her own while running the Tavern, and about the first time I met her, when she came over to the cottage to assure my much older parents that Sam was a good kid and that she would keep an eye on us. I remember when she taught me how to hold three plates at once and the time she told me not to take crap from any boy, including her own two sons.
"She was . . . everything," I say. "She was such a good mom."
"She was. And I know she meant a lot to you when we were kids. That's sort of why I'm calling," says Charlie, tentative. "Her funeral is on Sunday. I know it's been a long time, but I think you should be there. Will you come?"
A long time? It's been twelve years. Twelve years since I've made the drive north to the place that was more like home to me than anywhere else has been. Twelve years since I dove, headfirst, into the lake. Twelve years since my life crashed spectacularly off course. Twelve years since I've seen Sam.
But there's only one answer.
"Of course I will."
2
Summer, Seventeen Years Ago
I don't think my parents knew when they bought the cottage that two adolescent boys lived in the house next door. Mom and Dad wanted to give me an escape from the city, a break from other kids my age, and the Florek boys, who went unsupervised for long stretches of the afternoons and evenings, were probably as big a surprise to them as they were to me.
A few of the kids in my class had summer homes, but they were all in Muskoka, just a short drive north from the city, where the word cottage didn't seem quite right for the waterfront mansions that lined the area's rocky shores. Dad flat-out refused to look in Muskoka. He said if we bought a cottage there, we might as well stay in Toronto for the summer-it was too close to the city and too full of Torontonians. So he and Mom focused their search on rural communities further northeast, which Dad declared too developed or too overpriced, and then further still until finally they settled on Barry's Bay, a sleepy, working-class village that transformed into a bustling tourist town in the summer, sidewalks bursting with cottagers and European sightseers on their way to camp or hike in Algonquin Provincial Park. "You'll love it there, kiddo," he promised. "It's the real cottage country."
I would eventually look forward to the four-hour drive from our Tudor in midtown Toronto to the lake, but that first trip spanned an eternity. Entire civilizations rose and fell by the time we passed the "Welcome to Barry's Bay" sign, Dad and I in the moving truck and Mom following behind in the Lexus. Unlike Mom's car, the truck had neither a decent sound system nor air-conditioning, and I was stuck listening to the monotonous hum of CBC Radio, the backs of my thighs glued to the vinyl bench and my bangs plastered to my clammy forehead.
Almost all the girls in my grade seven class got bangs after Delilah Mason did, though they didn't suit the rest of us as well. Delilah was the most popular girl in our grade, and I considered myself lucky to be one of her closest friends. Or at least I used to, but that was before the sleepover incident. Her bangs formed a neat red valance over her forehead while mine defied both gravity and styling products, jutting out in odd poufs and angles, making me look every bit the awkward thirteen-year-old I was, rather than the mysterious dark-eyed brunette I wanted to be. My hair was neither straight nor curly and seemed to change its personality based on an unpredictable number of factors, from the day of the week to the weather to the way I slept the night before. Whereas I would do anything I could to make people like me, my hair refused to fall in line.
Winding down the bushland on the western shore of Kamaniskeg Lake, Bare Rock Lane was a narrow dirt road that lived up to its name. The drive Dad turned down was so overgrown that branches scraped the sides of the small truck.
"Smell that, kiddo?" Dad asked, rolling down his window as we bumped along in the truck. Together we inhaled deeply, and the scent of long-fallen pine needles filled my nostrils, earthy and medicinal.
We pulled up to the back door of a modest wood A-frame cabin that was dwarfed by the white and red pines that grew around it. Dad shut off the engine and turned to me, a smile below his graying mustache and eyes crinkling under dark-rimmed glasses, and said, "Welcome to the lake, Persephone."
The cottage had this incredible smoky-wood smell. Somehow it never faded, even after years of Mom burning her expensive Diptyque candles. Each time I returned, I'd stand at the entrance, breathing it in, just like I did that first day. The main floor was a small open space, covered floor to ceiling in pale planks of knotted wood. Massive windows opened onto an almost obnoxiously stunning view of the lake.
"Wow," I murmured, spotting a staircase leading from the deck and down a steep hill.
"Not bad, huh?" Dad patted me on the shoulder.
"I'm going to check out the water," I said, already darting out the side door, which closed behind me with an enthusiastic thwack. I fled down dozens of steps until I reached the dock. It was a humid afternoon, every inch of sky carpeted by thick gray clouds that were mirrored in the still, silver water below. I could barely make out the cottages that dotted the far shore. I wondered if I could swim across it. I sat on the edge of the dock, legs dangling in the water, shocked at how quiet it was, until Mom yelled down for me to help unpack.
We were tired and cranky from moving boxes and fighting off mosquitoes by the time we unloaded the truck. I left Mom and Dad to get the kitchen organized and headed upstairs. There were two bedrooms; my parents forfeited the lakeside one to me, saying that since I spent more time in my room, I'd make better use of the view. I unpacked my clothes, made the bed, and folded a Hudson's Bay blanket at the end. Dad didn't think we needed such heavy wool blankets in summer, but Mom insisted on having one for each bed.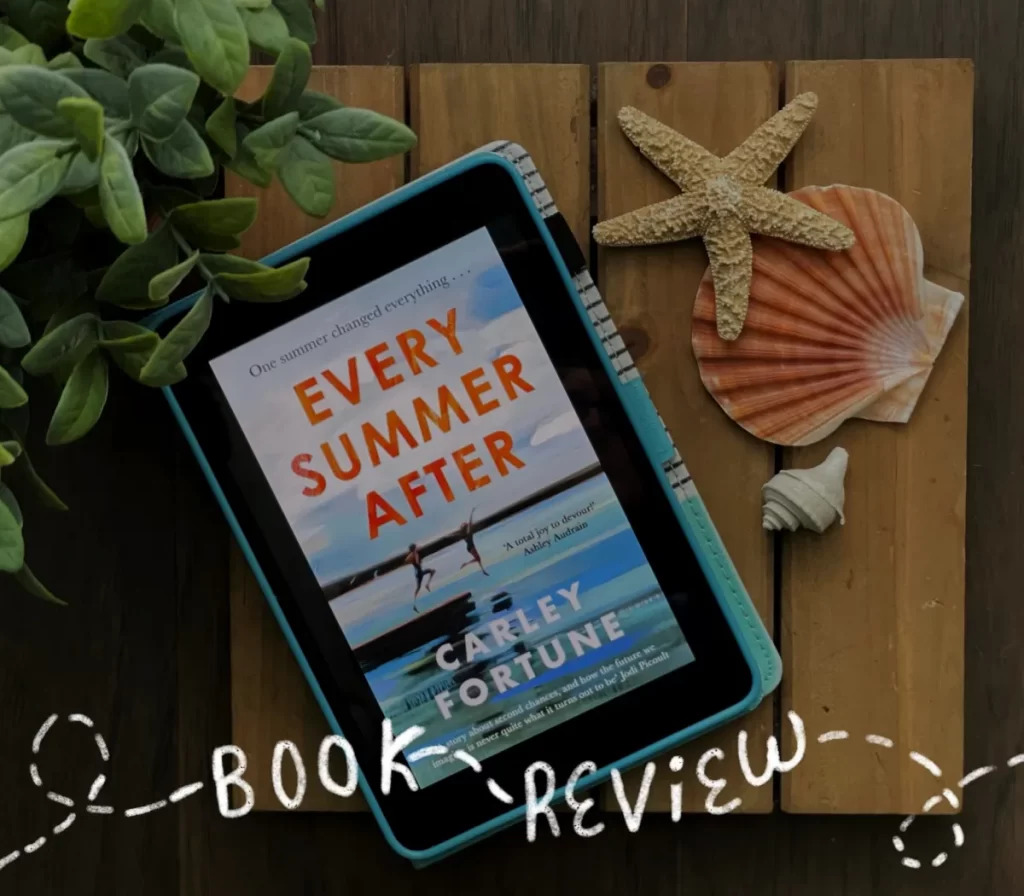 Every Summer After by Carley Fortune Book Review
Review by Kat From Goodreads
I had a feeling when I first saw the cover for this, I was going to love it. I wasn't prepared for just how much! I think I left a piece of my heart on every page!

Breathtaking, emotional, vulnerable, tender, intense, beautiful, funny and oh so REAL – those are just some of the words I'd use to describe this stunning debut novel from Carley Fortune, and even then I can't do it justice. I felt every moment of this book. I smiled, I laughed, my heart raced, and sometimes it truly hurt, but at every single moment I was experiencing this book as if I was there, and it's such a rare book that takes me to that place.

Percy (Persephone) Fraser and Sam Florek meet when they're 13-years old and her family buys a summer lake cottage in Barry's Bay next to the one he lives in year-round with his mom, Sue, and older brother, Charlie. They become best friends, spending summers and holidays together each year until Percy returns to Toronto for school. Her independence and wit complement Sam's intelligence and sensitivity, and together they bond over her writing and love of horror movies, swimming, working together at Sue's restaurant, and their ritual "three updates" they offer one another every time they talk after an absence. For six summers their friendship evolves and deepens until their future looks clear … until something happens and it isn't. Now, Percy, who's returned to Barry's Bay 12-years after last seeing Sam, wonders if she's destroyed that future forever.

This is a story about love, friendship and all the messiness that comes with it. Because it switches back and forth between the past and present, and a large chunk of the book is retelling the events of those six summers as teenagers, you might wonder if it reads YA. It doesn't, even though there's a coming of age element. It's refreshingly mature, and I ADORED Percy and Sam, both as teens and as adults. Their friendship was so utterly charming, and I wanted all the good things for them both! The past timeline captures the curiosity, confusion and hunger of being young and seeing friendship become something more, and the present one explores what happens when love has to find its way back. I'll give fair warning that the story doesn't hold back on the 'relational' details, so you might be blushing your way through parts!

If you love a character-rich, emotionally evocative, BEAUTIFULLY written story that explores what love feels like, both good and bad, this is one you won't want to miss! It will definitely be in my all-time favourites, and there would have to be something truly stellar to surpass it as my favourite book for this year!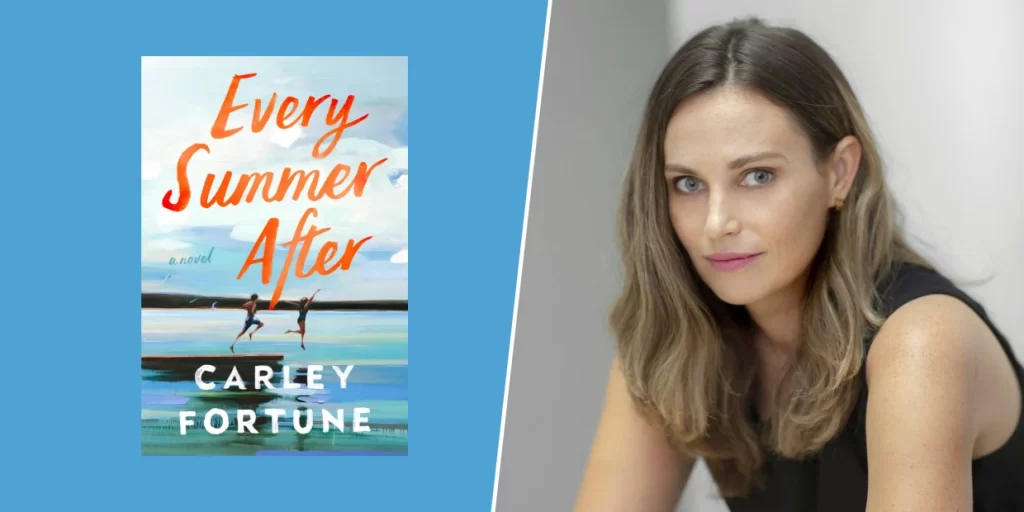 About the Author [Carley Fortune]
Carley Fortune is an award-winning Canadian journalist who's worked as an editor for Refinery29, The Globe and Mail, Chatelaine, and Toronto Life. She lives in Toronto with her husband and two sons. Every Summer After is her first novel. –This text refers to an alternate kindle_edition edition.
Get "Every Summer After PDF Free Download" Now
Get Every Summer After PDF Download
…………….
OR
…………….
Get Every Summer After Epub Download